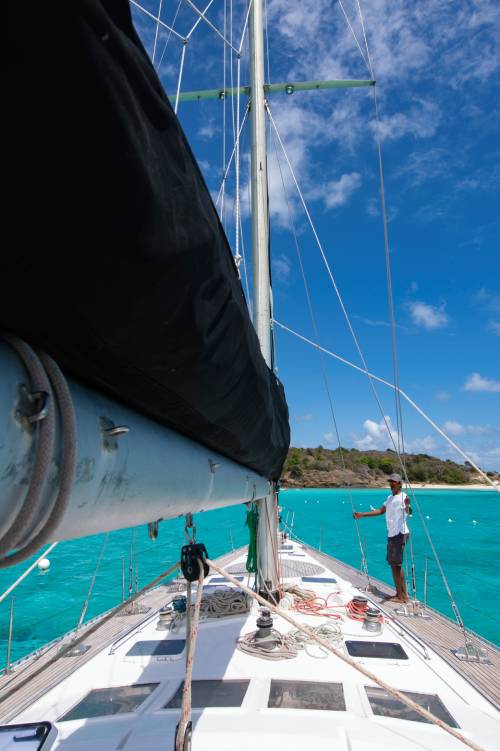 A necklace of 32 islands and cays in the secluded Southern Caribbean, St. Vincent and the Grenadines (SVG) boasts a verdant topography, pristine beaches, and turquoise waters that are ideal for sailing enthusiasts. This constellation of close-knit islands is one of the most sought-after sailing destinations in the world and has naturally become a hub for yachts, schooners and all manner of sailing vessels.
Plot your course through tranquil atolls stretching over 40 miles, exploring islets populated by a handful of palms, seabirds and turtles. St. Vincent and the Grenadines offers an idyllic setting for salty dogs to amateur sailors eager to track the wind. Drop anchor at a remote sandbar for a picnic lunch, or moor at one of the nine inhabited islands – St. Vincent, Young Island, Bequia, Mustique, Canouan, Mayreau, Union Island, Palm Island or Petit St. Vincent; or discover the uninhabited remote Tobago Cays, a protected marine park made up of five islets bordered by a giant horseshoe reef. The Tobago Cays offers some of the Caribbean's best snorkeling or a beach barbeque is always an option. Movie buffs may recognize Walliabou Bay anchorage in St. Vincent which was the main site of the filming of Pirates of the Caribbean: The curse of the Black Pearl.
Discover a community rooted in a rich marine history on Bequia, the exclusive celebrity scene on Mustique, the deserted crescent beaches and sleepy hilltop village in Mayreau. While individualized itineraries can be designed beforehand, a typical one week sail will cover approximately 90 miles of cruising with distances between islands ranging from two to five hours. While breakfast and lunch are typically taken aboard, there are a host of local restaurants on the inhabited islands that offer a great alternative for dinner.