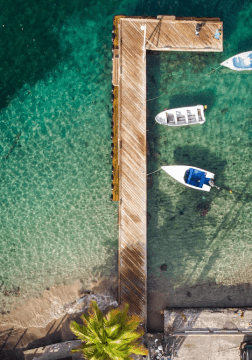 Journey to the heart of
Mustique
Rub shoulders with the rich and famous on a Caribbean island that blends elegance and luxury with natural white sands, palm trees and turquoise seas.
Pick up a mooring in Britannia Bay, stay at the world famous Cotton House, free up at the Blues Festival and the lively atmosphere of Basil's Bar, unwind in the absolute tranquillity of a deserted beach. Mustique is altogether beguiling.
Mustique won Travel Channel's 'Best Exotic Beach Award 2013'
Mustique is located 17 miles south of St. Vincent, between Bequia and Canouan. Just 3 miles long and 1½ miles wide, it is an island of 1,400 acres that encompass rolling hills, coastal bluffs and sandy bays.
The Mustique Company stewards the daily aspects of island life, and manages the investments of the property owners/shareholders. Mustique has developed a reputation for being an exclusive Caribbean hideaway of the well-to-do.

Along the leeward coast is Britannia Bay, a natural anchorage and where the wharf, jetty and several bijou gift stores, a small fishery, fruit stalls and a gourmet food store are located. At the northern end of the bay is the famous Basil's Bar and also Lovell Village, where the island's 500 or so local inhabitants live. To the north of Lovell Village is Mustique's small airport and the manicured grounds of the Cotton House, a luxury hotel resort. Paved roads run around the island, linking epicurean private residences, white sand beaches and gorgeous bays. With an emphasis on privacy and exclusivity, Mustique is an alluring island that synthesises natural charm with an aura of celebrity.
The fusion of exclusivity and natural beauty that is inherent in the island itself and in its place amongst the world's jet-set. Fantastic beaches can be found at Macaroni Bay (recently voted one of the world's sexiest beaches by the Travel Channel), Pasture Bay, L'Ansecoy Bay, Endeavour Bay and Gallicaux Bay.
The Cotton House combines cultural heritage with contemporary design and elegance, magnificent private homes offer tantalising glimpses into another world, and Basil's Bar brings you back down to earth with music, laughter and great entertainment.
Basil's Bar has been voted one of the best bars in the world and, with the occasional celebrity dropping in for a cocktail and a bite, you may find yourself doing a little star gazing! The Mustique Blues Festival takes place at Basil's Bar in the last week of January each year. Started by English blues singer Dana Gillespie and bar owner, Basil Charles, the festival features regional and international artists, which occasionally include some of our island's well-known musical residents.
There are around 2 taxi operators on Mustique offering one-hour excursions around the island. If you are staying at one of Mustique's hotels, then 'mules' (small utility vehicles) can take you where you need to go. As there are no public buses, nor car rental companies here, the only other option is to walk. Mustique's taxis operators can be either be called in advance to meet you or can be found waiting near Basil's Bar on Britannia Bay.
FULFIL YOUR DREAM VACATION
Are You Interested in Staying in Mustique?