Discover the Beauty Underwater
St. Vincent and the Grenadines (SVG) is one of the last untouched corners of the Caribbean. Blessed with verdant volcanic slopes, welcoming locals and remote island outposts that stretch across 70 miles of clear blue sea, it is a place where savvy scuba divers and island hoppers alike can find adventure both above and below the sea. Underwater, SVG is known for its rare and exotic marine life and has been coined the 'Critter Capital of the Caribbean'. It boasts critter diving unparalleled outside the Coral triangle. Among the 32 islands and cays that comprise the destination, scuba divers can explore more than 100 dive sites, including adrenaline pumping drifts, blissfully uncrowded coral gardens, and dramatic submarine lava flows that coalesce into a wonderland of caves, canyons and walls.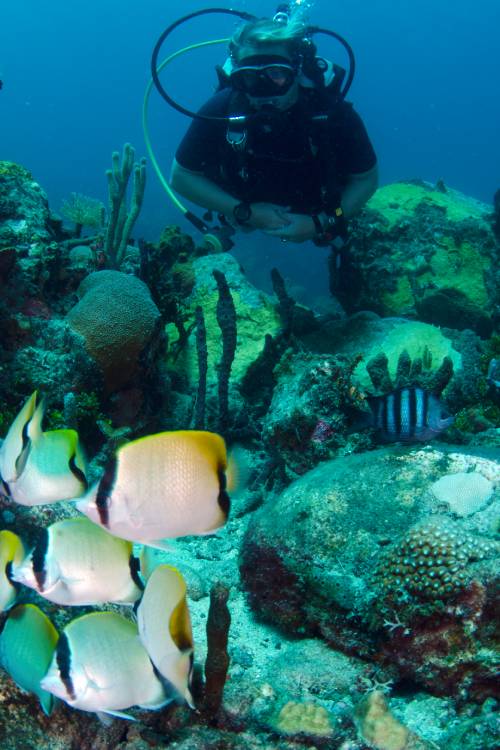 Our islands are a dream for scuba divers
Along its protected Leeward shore, St. Vincent has 25 miles of dive worthy coastline with consistently calm, clear conditions. There are more than 45 dive sites on this island ranging from black-sand muck dives and sundrenched coral gardens, to wrecks and dramatic lava formations. Fish spotters and macro-photographers flock here to catch rare glimpses of hard to find creatures. Voted one of the top 100 dive sites in the world, Anchor reef is a must-see for visiting divers. This dramatic wall dive has it all – swim throughs, black corals, macro critters and 18th century wrecks.
Halfway up the leeward coast lies Anchor Reef, so named as buried within the reef there is an 18th Century anchor. This pretty reef starts at 30ft, and then drops to a 120ft wall-like peninsula. Follow this and you will find an underwater maze of large rocks, caves and swim through. Lots of fish, black corals, and even a seahorse or two make for a superlative dive.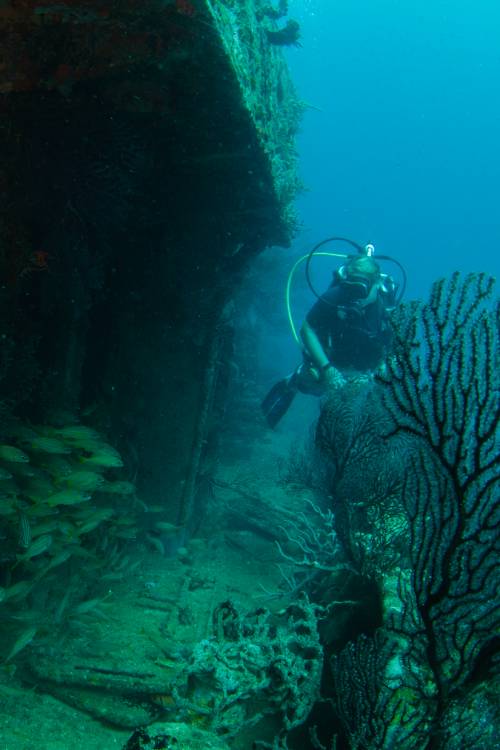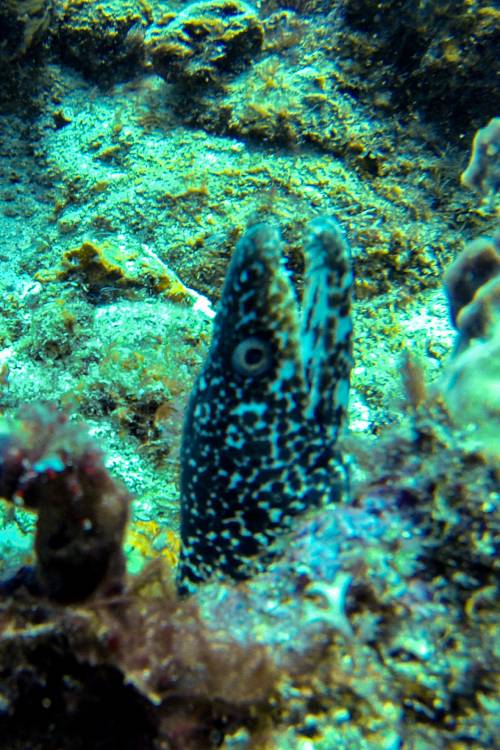 This location offers a number of super dives. Back Door Deep drops down to over 100ft/18m from a step reef which leads to a sheer wall. Back Door Shallow provides an amazing underwater forest of sea fronds and gently waving sea fans. As you enter the Back Door you will hear the shrill squeaks of the residents above, and see the silver sparkles of the tiny fish that shelter from the sun in the shallow water at the cave's entrance. The cave opens into an underwater fissure at around 45ft, and provides a great "starburst" photo opportunity! This is one of St Vincent's must- do dives, conditions allowing, of course.
One of St Vincent's more challenging sites, the Bat Cave, should only be attempted under the supervision of a local dive professional.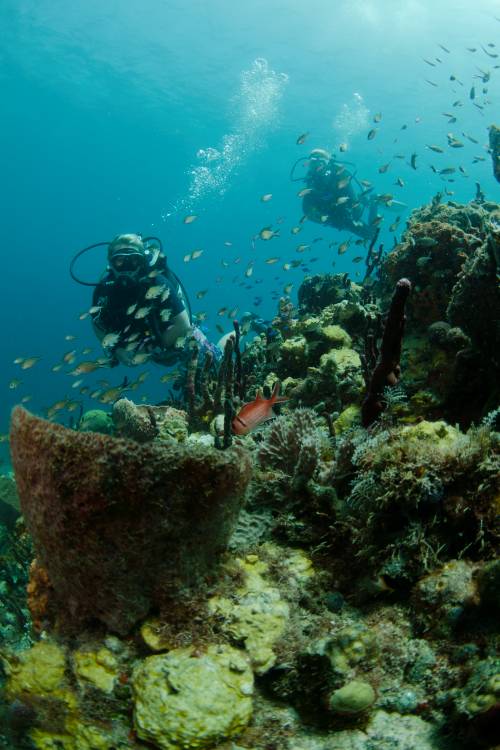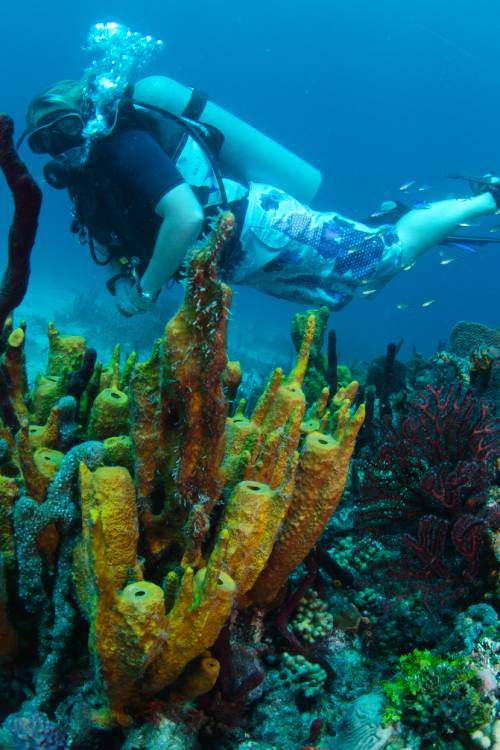 Three wrecks practically lie on top of each other. The first of the wrecks to sink was an 18th Century French Frigate. You can see one of her cannons on display inside the Cruise Ship Terminal in Kingstown. The other two wrecks are of the Siemanstrand and a tug boat that collided nearly 30 years ago. The wrecks lie between120ft and 60ft, and the dive is best suited for advanced divers.
An unusual dive in an unusual location. Calliaqua Bay is probably the last place that you would expect to find geothermal activity! But there it is, alongside a profusion of larger pelagics, huge sea fans and some quite unusual underwater topography.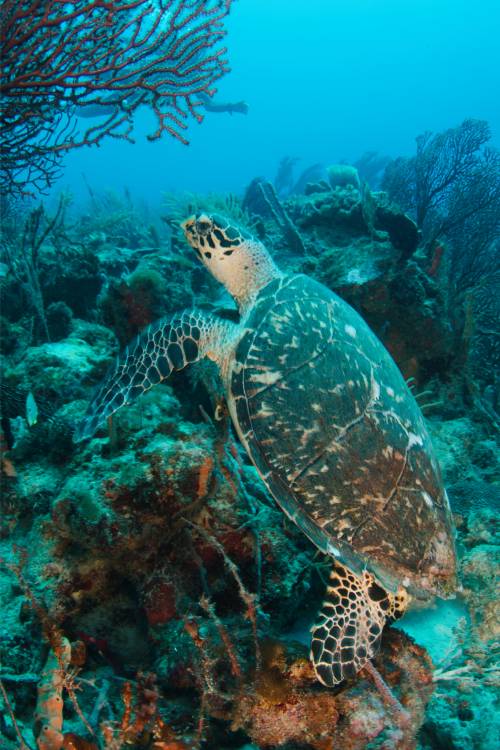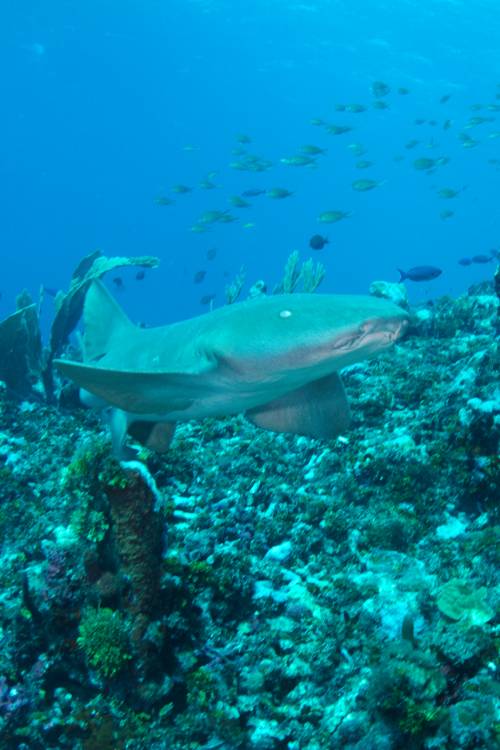 A Zen-like experience! A very pretty dive where divers will find a marine environment that looks as though it has been tended by Japanese gardeners. Featuring a bottom of gently undulating sand, coral outcrops, sea fans and a forest of sea fronds plus masses of fish, this dive will appeal to all divers.
Imagine standing on the top of a 10-storey building, and feeling the urge to jump off… The Wall allows you to do just that! At its deepest point it drops off to over 150ft of vertical wall dive, and when the conditions are perfect it is possible to see all the way to the bottom. At the end of the dive there is an area of pristine reef at approximately 25ft where divers can spend their safety stop enjoying the brightly coloured reef fish.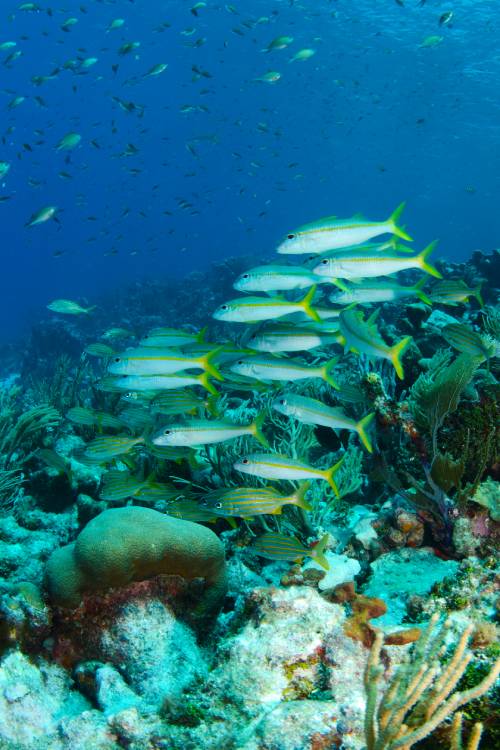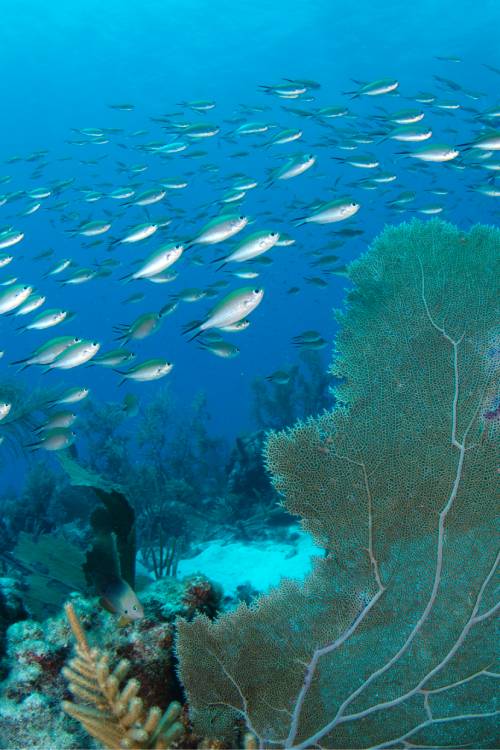 This dive site is a favourite as it is suitable for all divers from beginners to the ultra-experienced and it provides a sheltered perfect spot on the beach for divers wishing to brush up their confined water training skills. It also provides a great night dive location. The reef opens with a wide sweep of club finger coral, and then drops off to around 100ft/30m at its deepest point. Teaming with fish, critters and a wide selection of coral species, we are sure that you will fall in love with this site too!
St Vincent's youngest wreck dive is the 160ft cargo vessel named The Romark which sank in November 2003. She lies keel down in approximately 130ft water, with the shallowest part of the dive being at approximately 45 ft. She is home to a large selection of aquatic life including soft corals, sponges and larger pelagics. This is an advanced dive, and well worth a visit!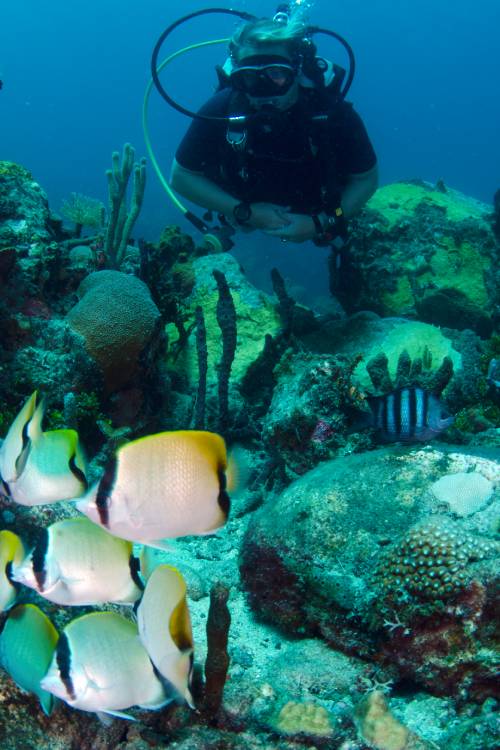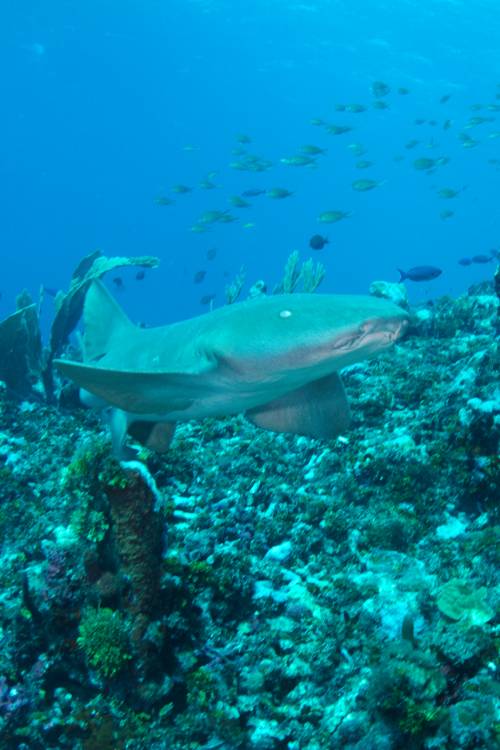 Occasionally, St. Vincent can experience some extreme currents running north to south along the Leeward coast of the island. For the most part it does not interfere with the day-to-day diving activities. On the few occasions that the current is running there is no better dive in St Vincent and the Grenadines, and divers are able to cover a large distance in a very short time. Travel over boulders, through canyons, over drop-offs and finish in a secluded bay.
Where? Over there! Macro photographers and muck diving enthusiasts will enjoy exploring Over There – a large sandy bank that lies under a wall fringed with large boulders. So many critters to see, and plenty of time to enjoy them as the maximum depth is around 30ft.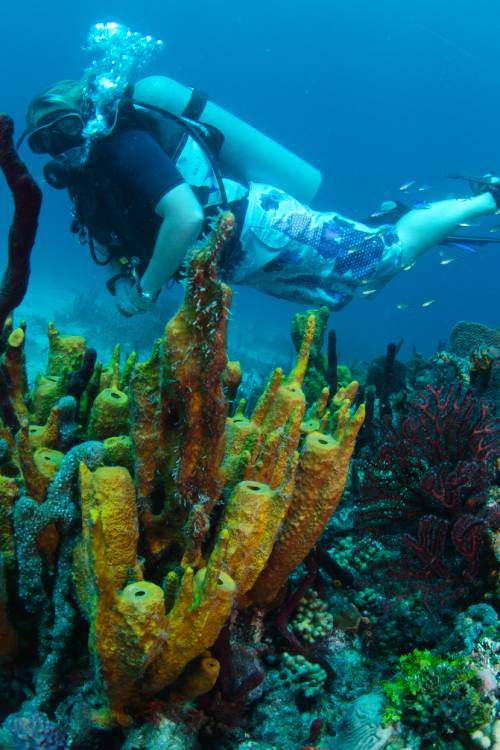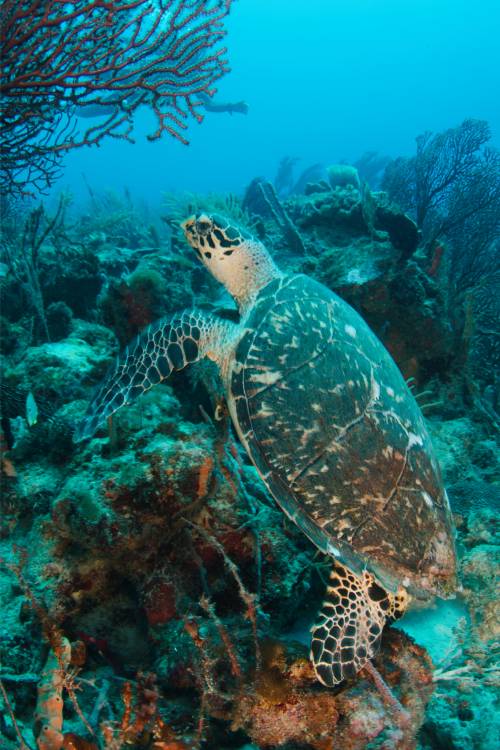 Situated on the south coast of St. Vincent, Rock Fort is one of the island's primary landmarks. Underwater it is also an awesome dive featuring a variety of aquatic environments including, rubble and sand, boulders, caves and a huge expanse of reef. Very strong currents mean that it is usually undertaken as a drift dive. Divers wishing to undertake this dive without a local guide should be aware that there can be a strong rip current, and caution should be exercised.
A super dive where advanced divers will enjoy the current and surge. Large sea fans, lots of soft corals and the opportunity to see bigger pelagics.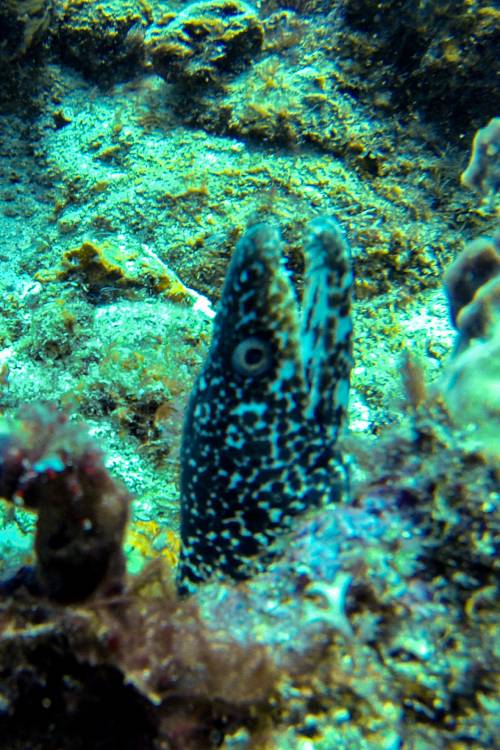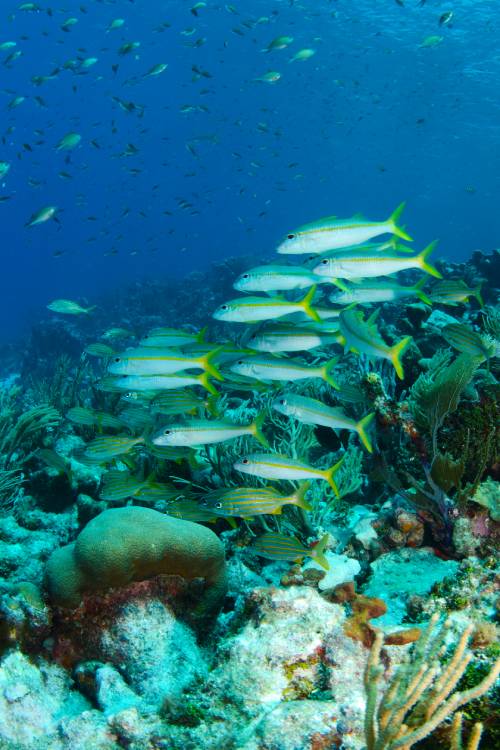 Magnificent boulder dive, offering lots of shady spots for single bar soldierfish, frog fish and the occasional seahorse to hide.
Picturesque Admiralty Bay and Port Elizabeth serve as the jumping off point for sailing and diving in the Northern Grenadines. About 30 dive sites lay within a 15 minute boat ride from the harbor. Along with Bequia's stunning reef gardens, there are also wrecks, a wall dive and dramatic rock reefs.
Bequia sites: 
Ship's Stern

Boulders 

Moonhole 

Stratmann Wreck 

Moonhole Cave 

Browns Bay 

West Cay Wall 

Devils Table/Rocky Bay 

Moonhole Wreck 

Middle Cay 

Robyn's Reef 

Cathedral 

North West Point 

Three Wrecks 

New Moon 

Flat Rock 

Long Point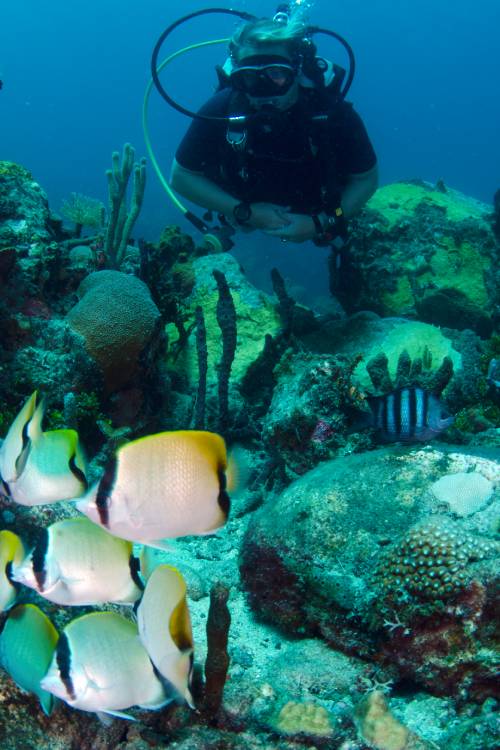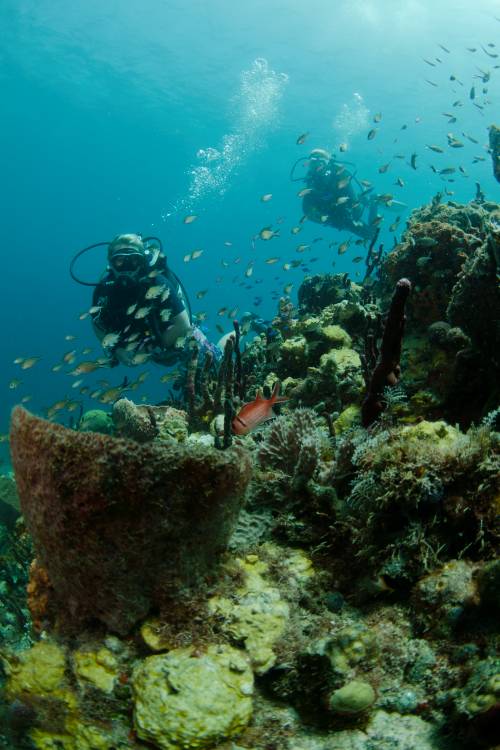 Guest on this private island have the opportunity to explore sloping reefs and coral expanses. They can expect to see rare spotted drums and banded coral shrimp among other fascinating and secretive critters. In 2015 the island's marine conservation team pioneered a coral restoration project to rehabilitate the coral reefs surrounding it and as a result a nursery was established off shore in Endeavour Bay. Thus guest are welcome to join the dive team to swim out to the nursery to clean the coral and measure its progress.
Canouan is surrounded by crystal clear waters and coral reefs that are teaming with marine life which makes it ideal for scuba diving. There are three main sites on Canouan Island: Petit Canouan, the Airport Reef and Glossy Point Reef.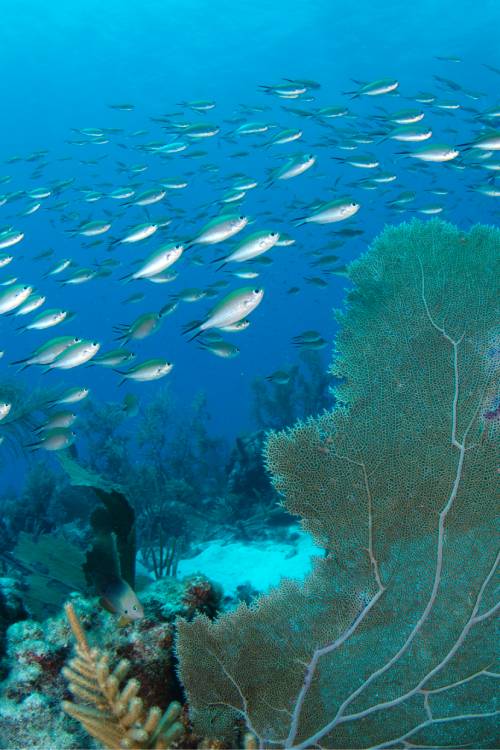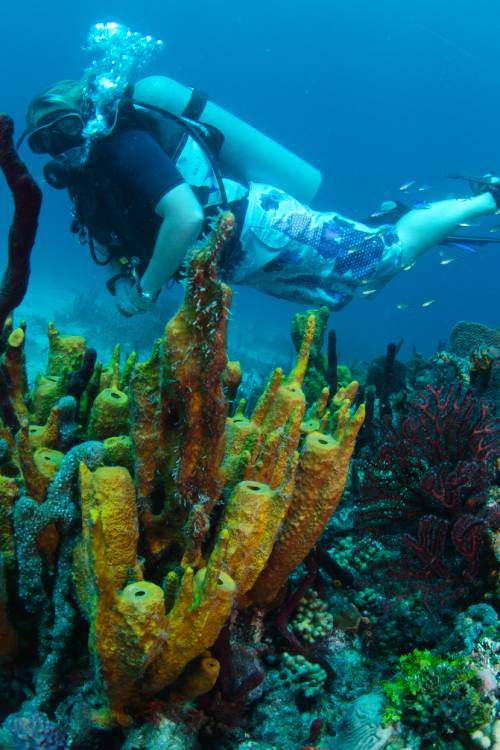 Mayreau has a variety of dive sites including an underwater hot-spring vent and outstanding reef gardens. One of its main site, the Mayreau Gardens, consists of an expansive coral reef formation which provides a great drift dive. Divers can expect to see crinoids, garden eels and flamingo tongues. The other principal site is the Puruni Wreck situated near to Mayreau Gardens. The wreck is of the British gunship Puruni, lying in only 40ft in the water. This 1918 vessel is an excellent experience for both beginner and advanced wreck diving.
This collection of five deserted islands is a protected Marine Park. It is home to green turtles, friendly creatures whose protected status has made them unafraid of interacting with people. Divers can swim with them along the pristine horseshoe reef that fringes the Cays and the secluded World's End Reef which boasts graceful sting rays among throngs of tropical reef fish.
There are four main dive sites within the Cays: 
Horseshoe Reef 

Petit Tabac Reef

Number 9

End's Reef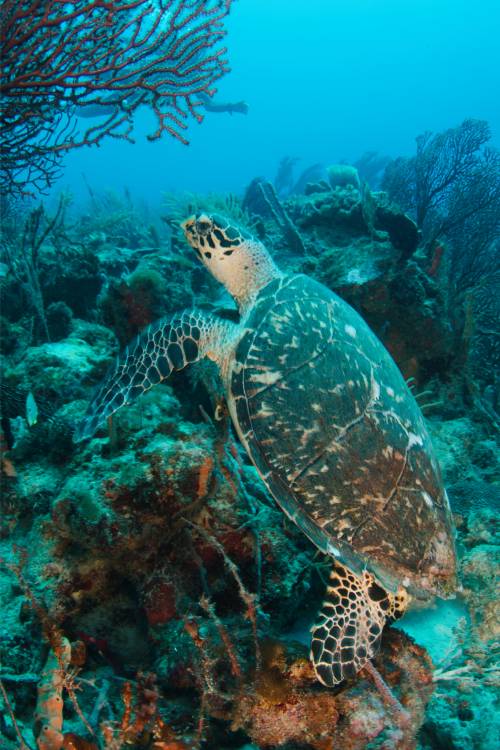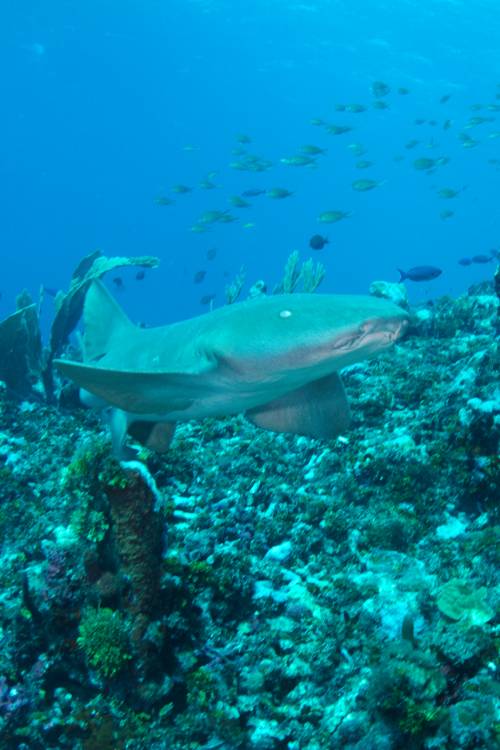 Union Island is considered the diving hub of the Southern Grenadines, offering access to reefs and the surrounding islands. This island has some shallow dive sites that are recommended for night diving. The Two main sites are Round About Reef and Clipper's Point/ Yankee Clipper.
Petit St. Vincent is home to the Jean- Michel Cousteau Diving Caribbean Centre, one of two in the world. The two main diving sites near Petit St Vincent are Mopion Reef and Pineese Reef.V