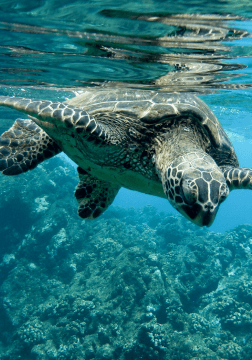 Journey to the heart of
Tobago Cays​
Imagine an intimate cluster of five uninhabited cays, heavenly lagoons full of green turtles, coral reefs, colourful fishes and crystal clear waters.
An idyllic yachting anchorage, a dream for scuba divers, a paradise for beachcombers, and a film location for Pirates of the Caribbean, the Tobago Cays and the Tobago Cays Marine Park is one of the world's most awe inspiring island destinations.
Tobago Cays was listed in Luxurious Magazine's 'World's Chicest Yachting Hotspots For 2013.'
The Tobago Cays Marine Park was established in 1998. It is a group of five uninhabited tropical islands located to the east of Mayreau in the Southern Grenadines.
Tobago Cays Marine Park
Horseshoe Reef is a large coral reef system that protects four of the islands: Petit Rameau, Petit Bateau, Baradal and Jamesby.  The fifth cay is Petit Tabac which lies just outside the main reef system, and beyond Petit Tabac are Egg Reef and World's End Reef.
Marine Park Visitor Fees are payable at Tobago Cays Marine Park offices on Mayreau and Union or directly to the park wardens on arrival. Prices vary depedning on the type of tour you've arranged. For those on boat tours or scuba diving trips, the fee is usually included in the price of your excursion.
Visit the Tobago Cays Marine Park website.
Pirates of the Caribbean were here!
Petit Tabac was a filming location for the first Pirates of the Caribbean movie. Captain Jack Sparrow (Johnny Depp) was marooned here with Elizabeth Swann (Kiera Knightly) — this is the  island where Elizabeth set fire to his stash of rum. On a previous occasion, pirates tell of Jack escaping the island on the back of two sea turtles… Though the pirates have long since left the Tobago Cays, thankfully the turtles remain.
Anchorages
Designated yacht anchorages are located at the centre of the main lagoon as well as on the north western edge of Petit Tabac.
Turtle Watching Reserve
The area around the south western edge of Baradal is designated a turtle watching reserve where it is possible to see green turtles in the wild. The reserve is marked by a series of linked buoys.
The cays themselves consist of white sand beaches, rock and dry scrub. Coconut palms grow along the margins of most beaches. Petit Tabac is primarily white sand and coconut palms, a picture perfect deserted tropical island.
FULFIL YOUR DREAM VACATION
Are You Interested in Staying in Tobago Cays​?